Room Rates
Rights & Responsibility
Admission & Discharge
Payment Mode
Insurance
Getting Here & Parking
Retail & Dining
Request for a Medical Report
FAQs
Room Rates
Your comfort is our priority. All our rooms are designed to exude a warm and comfortable ambience to help our patients achieve a smooth and fast recovery.
We have three 3 types of rooms to meet patients' needs. Every effort will be made to provide patients with their desired room type.
However, there may be instances your requested room type is unavailable. In this instance we will arrange for a room transfer as soon as your requested room type is available.
Single Room
RM 300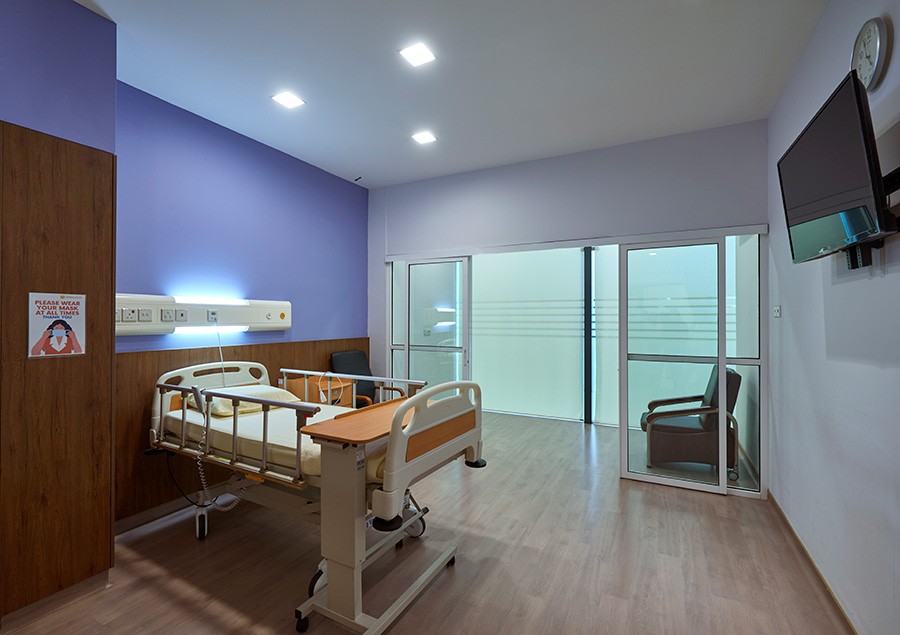 Double Bedded Room
RM 150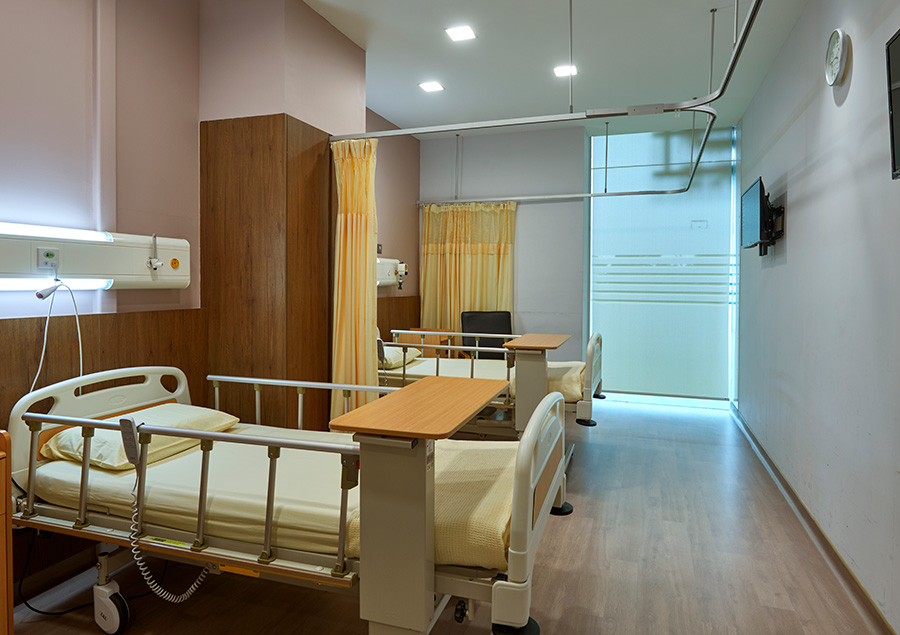 Four Bedded Room
RM 90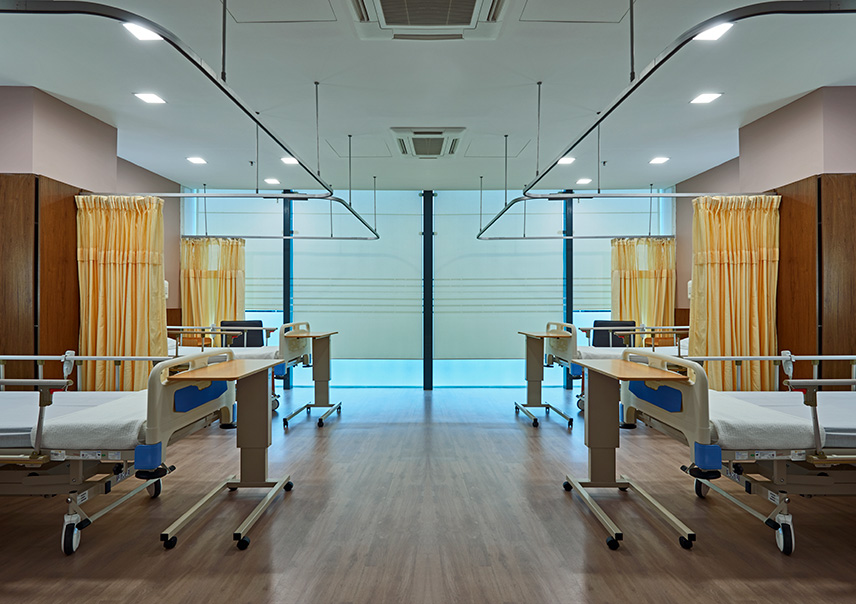 Rights & Responsibility
It is important to know your rights and responsibilities when it comes to managing your health.
At Cengild, we partner with you to deliver safe, effective care to the highest possible standards to achieve maintaining a healthy lifestyle through all stages of your life.
That means as a patient, you need to know:-
Patient's Rights
Every patient has the right to access competent healthcare and treatment.
Prior to treatment, a patient has the right to a clear explanation of the proposed treatment, planned procedure/intervention and common complications that may arise.
Translation services will be provided where possible.
The hospital will ensure the safety and security of the patients.
A patient has the right to know the investigations conducted and the results of these investigations.
A patient has the right to a second opinion at any time.
A patient or a third person on the patient's behalf with written permission and consent letter can request for a Medical Report. Fees will be charged for the report.
The patient has the right to enquire for information and provide feedback to the Head of Department concerned or to the Customer Service Department.
A patient has the right to be provided with:

Estimated bill at time of admission
Updates on the bill status periodically
Itemized bill on discharge (upon request)
Patients' Responsibilities
The patient/guardian with legal responsibilities shall provide accurate and complete information about his/her health to the attending doctor to the best of their ability.
The patient/guardian with legal responsibilities shall inform the hospital f his/her ability to pay for the services to be rendered.
The patient has the responsibility to follow doctor's advice and treatment, keep appointments and inform the doctor or the hospital if he/she is unable to do so.
While in the clinic or hospital, the patient must conduct himself/herself so as not to interfere with the well-being or rights of other patients or healthcare professionals.
Admission & Discharge
Welcome to Cengild. As our in-patient, allow these guidelines to assist you through a smooth In-Patient journey.

1. Admission
For inpatient, kindly bring along the following:
Medical Card
Letter of admission
Identity card / Passport (Applicable to International In-patient)
Deposit


2. Registration
At the registration counter, kindly present the Letter of admission together with IC / Passport and the Admission officer will attend you.
Kindly indicate the type of room eligibility or preference.
Upon identification of your room preference, kindly indicate your mode of payment.
Should it be cash payment, deposit will be collected – our Admission officer will advise the deposit amount to be collected based on the medical service required, room acquired and the estimation consultation fee from your admitting consultant.
If you are covered by Insurance, kindly furnish us with the Guarantee Letter and Insurance card for verification. A deposit will still be collected if the approval is pending or if the insurance has declined coverage. All decision made by the insurance company is final and any appeal is to be made directly to the insurance company concerned.
The admission officer will now proceed to complete all relevant documents. Once the availability of the room is determined, the admission officer will notify concierge to escort you to your assigned accommodation.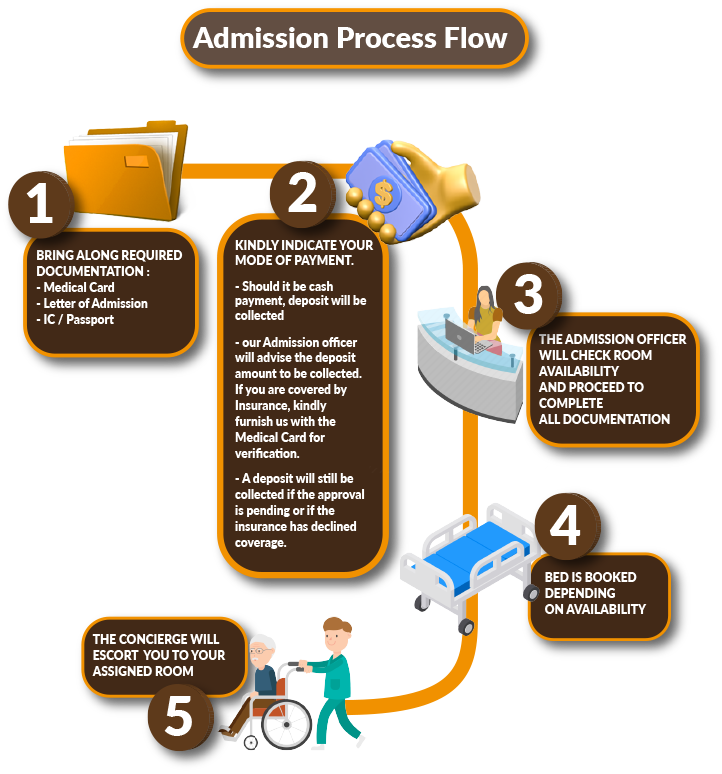 3. Ward
Upon arrival at the ward, our nurse will escort you to your room.
The nurse will then introduce herself and provide room and nursing service orientation which include the following:

Short introduction on the room and ward setup.
Gather information pertaining to your medical history.
Demonstrate the use of call bell.
Risk of fall and prevention awareness.
Information on the necessary preparation and admitting consultant order will be carried out.

Now, that the nurse has all your vital information, she will proceed to check your vital signs (i.e temperature , pulse , respiration, blood pressure and pain score), which is to be reported to the doctor concerned.
Relevant nursing care will be provided.


4. Discharge
From Ward


Please be informed that the check out time is 12 noon. For discharged after 12 noon, an additional half day room fee will be charged.
After 5 pm, full day room charges will be charge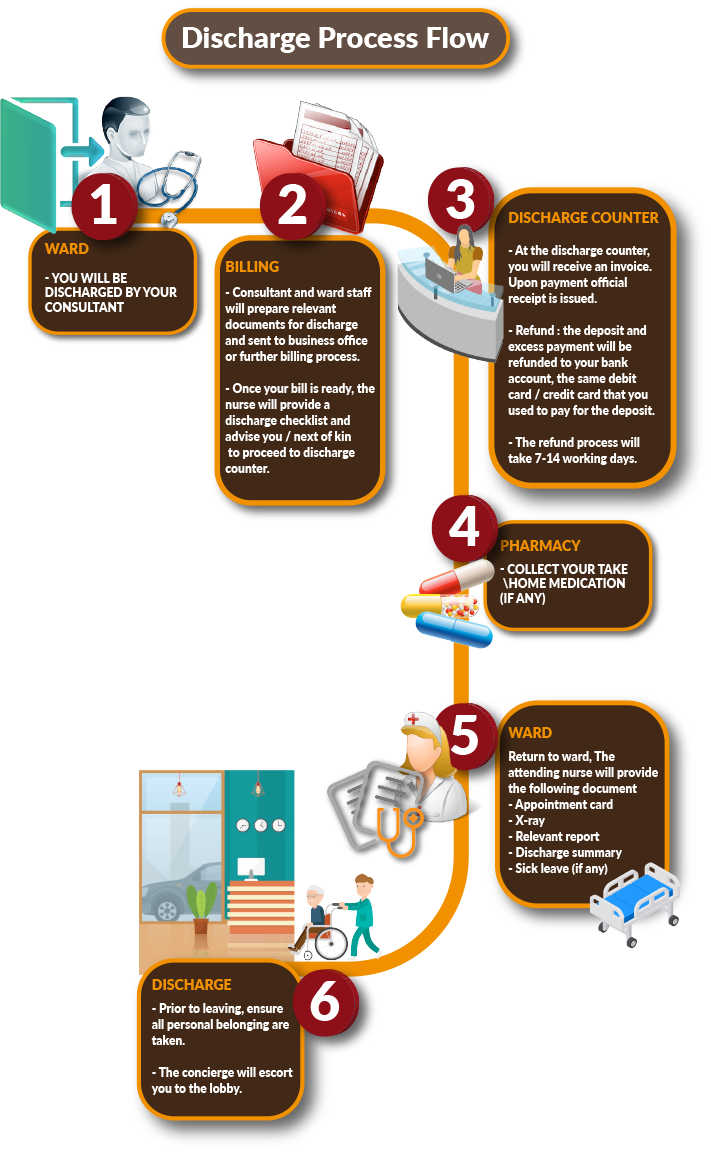 Billing:


The final bill will be ready approximately 2 hours from the time discharge process is activated from the ward.
We also wish to remind you it may require 3-4 hours or longer to obtain the final Guarantee Letter from the insurer/ Third Party Administrators (TPA).
You may liaise with the ward nurse to confirm with the billing office on the status of final bill.
A deposit will be required if you wish to leave the hospital before the final guarantee letter is issued by Insurer / TPA.
Once your bill is ready, the ward nurse will provide you with a discharge Checklist and advise you / next of kin to proceed to Information counter to get a queue number for Discharge counter.



Cashiering:


At the Discharge counter, you will receive an invoice and upon payment, an official receipt is issued.
Refund: Upon receiving final Guarantee Letter from your insurance, the deposit will be used for any uncovered charges. The deposit and excess payment (if any) will be refunded to your bank account (for cash transaction) or the same debit card or credit card that you used to pay for the deposit . The refund process will take 7-14 working days.
Once completed, the attending Discharge officer will direct you to Pharmacy department to collect your medication (if any).



Pharmacy:
At the pharmacy, please allow 10 – 15 minutes for pharmacy assistant to dispense your medication.


Back to ward:

At the ward level, the attending nurse will provide following document:


Appointment card
X-ray
Relevant report
Discharge Summary
Sick leave (if any)

Prior to leaving, ensure all personal belonging are taken. The concierge personnel will escort you to the lobby.
Payment Mode
We accept various payment mode:
Cash
Credit Card (Visa/Master/American Express)
Debit Card
Banker's or Company Cheque

Payee (For cheque / TT) :

| | |
| --- | --- |
| BANK | RHB BANK |
| ACCOUNT NAME | CENGILD SDN BHD |
| ACCOUNT NUMBER | 21452100007769 |
| SWIFT CODE | RHBBMYKL |

Online Transfer

Kindly submit the scanned copy of bank transfer receipt to the email addresses below:
Insurance
At Cengild, we will ensure your ease and comfort during every step of journey with us. We provide various admission modes and honor a list of renowned corporate insurance partner. Kindly click the button below to refer to the listed corporate insurance partners.
Malaysia
Indonesia
Getting Here & Parking
By car
We are strategically located at Nexus, Bangsar South, which is between Kuala Lumpur, Petaling Jaya & Bangsar. You can reach us through 3 major expressways: Federal Highway, New Pantai Expressway (NPE) & SPRINT Highway
Waze
–
Click here
Google Map
Where to park your car?
Basement car park at Entrance A is located along Jalan Kerinchi, you may turn left after you passed by Nexus Main Entrance If your direction is from Jalan Kerinchi towards Federal Highway, Nexus will on your left. Turn left before Nexus Main Entrance will lead you to car park at level 2 & 3
View Parking Rates
By LRT
Take the Light Rail Transit (LRT) to Kerinchi LRT Station/ Universiti LRT station. Nexus is within 15 – 20 minutes walking distance from both the train stations. From Kerinchi LRT station, walk along the covered pedestrian bridge and central park (or covered walkway at B1) at Bangsar South towards Nexus. There is also a covered pedestrian bridge to cross Jalan Kerinchi to Nexus. Alternatively, take a ride on Nexus complimentary shuttle service from Universiti LRT station or The Horizon Phase 2 pick-up point (if you are coming from Kerinchi LRT station). When you have reached Nexus Main Entrance, you may take escalator (on your left) or lifts (on your right) to reach Cengild Medical Centre which is located at Level 2
Retail & Dining
Request for a Medical Report
In order to comply with the PERSONAL DATA PROTECTION (PDP) Act 2010, all submissions for medical report/insurance claim / SOCSO / legal report / KWSP, the following procedures must be followed.
1. DOCUMENT
 

Completed Release Consent / Application Form (must include the signature of the patient as proof of consent and authorization)
Photocopy ID of the patient (NRIC or Passport)
Photocopy ID of the requestor (NRIC or Passport), if the requestor is not the patient
Insurance Form / Request Letter
Copy Death Certificate of the patient (if deceased case)
2. HOW TO APPLY?
Applying at the Medical Record Department Counter
Applying via email: mrd@cengild.com
Applying via mail to:

Medical Records Department Cengild G.I. Medical Centre, Unit 2-3 & 2-4, Nexus @ Bangsar South, No 7, Jalan Kerinchi, Kuala Lumpur. 

 
3. CHARGES
| | | |
| --- | --- | --- |
| | Types of Documents | Charges |
| i | Simple Insurance Form/SOCSO/EPF | RM 60 |
| ii | Details Insurance Form/SOCSO/EPF | RM 120 |
| iii | Medical Report (Written Medical Report) | RM 120 |
| iv | Photocopy of Medical Certificate/Lab Result/Radiology Report/others | Free of charge |
4. HOW SOON THE REPORT CAN BE RELEASED?
Standard Medical Reports and Insurance Claims should be ready for collection 2-4 weeks from the time all required documents and payment is received

Requests for investigation reports will be completed in 1-3 working days from receipt of the request.

For follow-up / further enquiries pertaining to your medical report request, please contact Medical Records Department 03-2242 7000 (Hotline) / ext : 7028 .

 
FAQs